10 Dec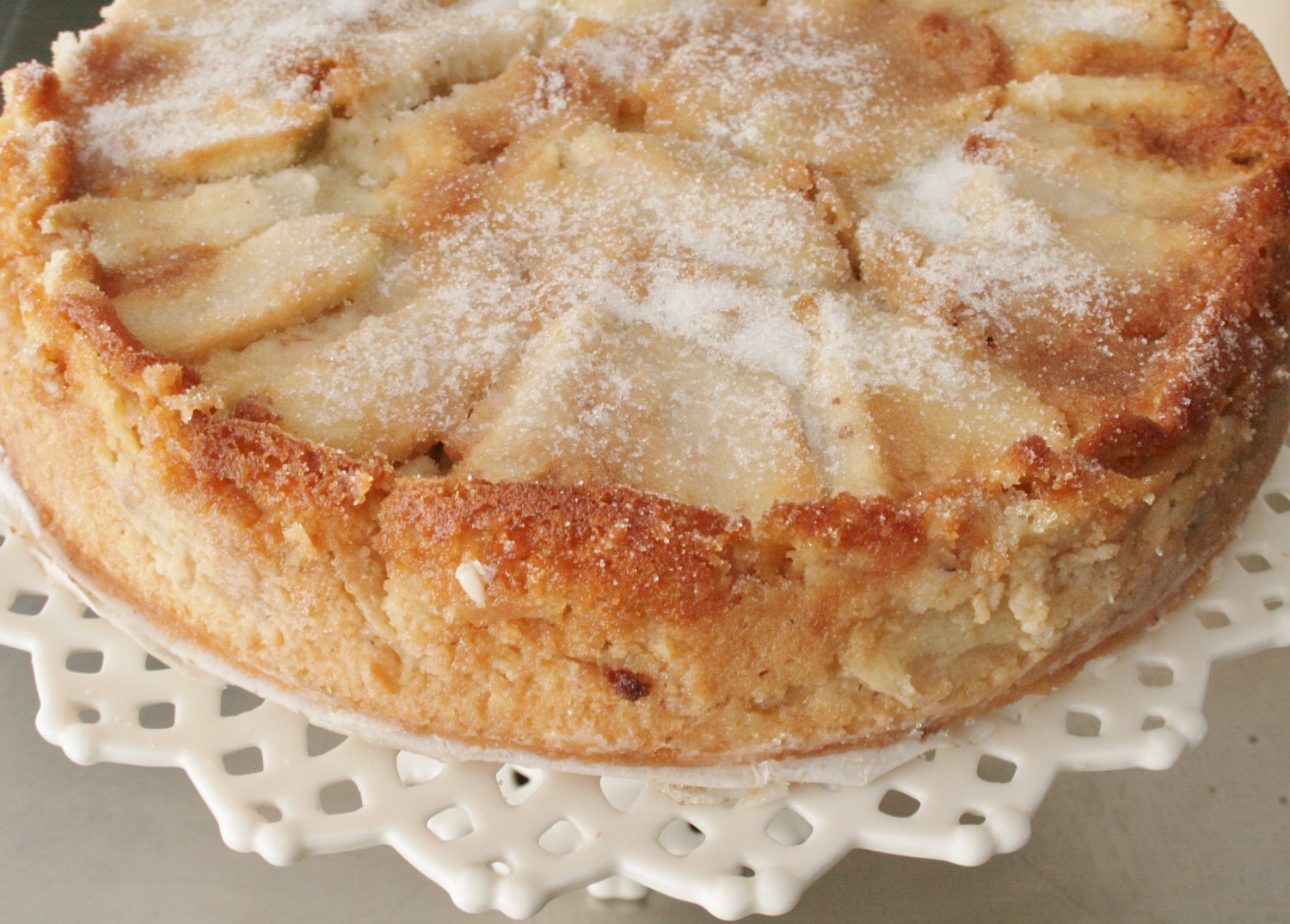 Gluten Free French Apple Cake here Mesdames et Messieurs! As the name of this blog indicates, we just love, well, French anything really! It just feels like French desserts in particular have such an air of refinement about them. Can you imagine a little gluten free Parisian Cafe filled with little fruit tarts, and madeleines, napoleons and croissants?! We would ride our baby blue basketed bicycles, wear polka dot tights and little leather gloves to sip a cup of fine tea, alongside petit rainbow macarons…Ohhlala….
OK, drifting. Back to this cake. When we first saw this French Cake Recipe we just had to make it, and then, well..we had to make it again, and again…for every single dinner party since!!  It's so good. It must have something to do with this cake's cake/pie like crust, slightly custard-ly middle and top thin sugar layer, oh and add crunchy tart apples to that delicious mix.
This cake is slightly adapted from the lovely Alison, of AGirlDefloured.com, We think all of her recipes are perfection…I mean, 'Persimmon Grilled Cheese/ With Goat Cheddar and Prosciutto' (mouth wide open) is about the most genius thing we've ever heard of! Check it out.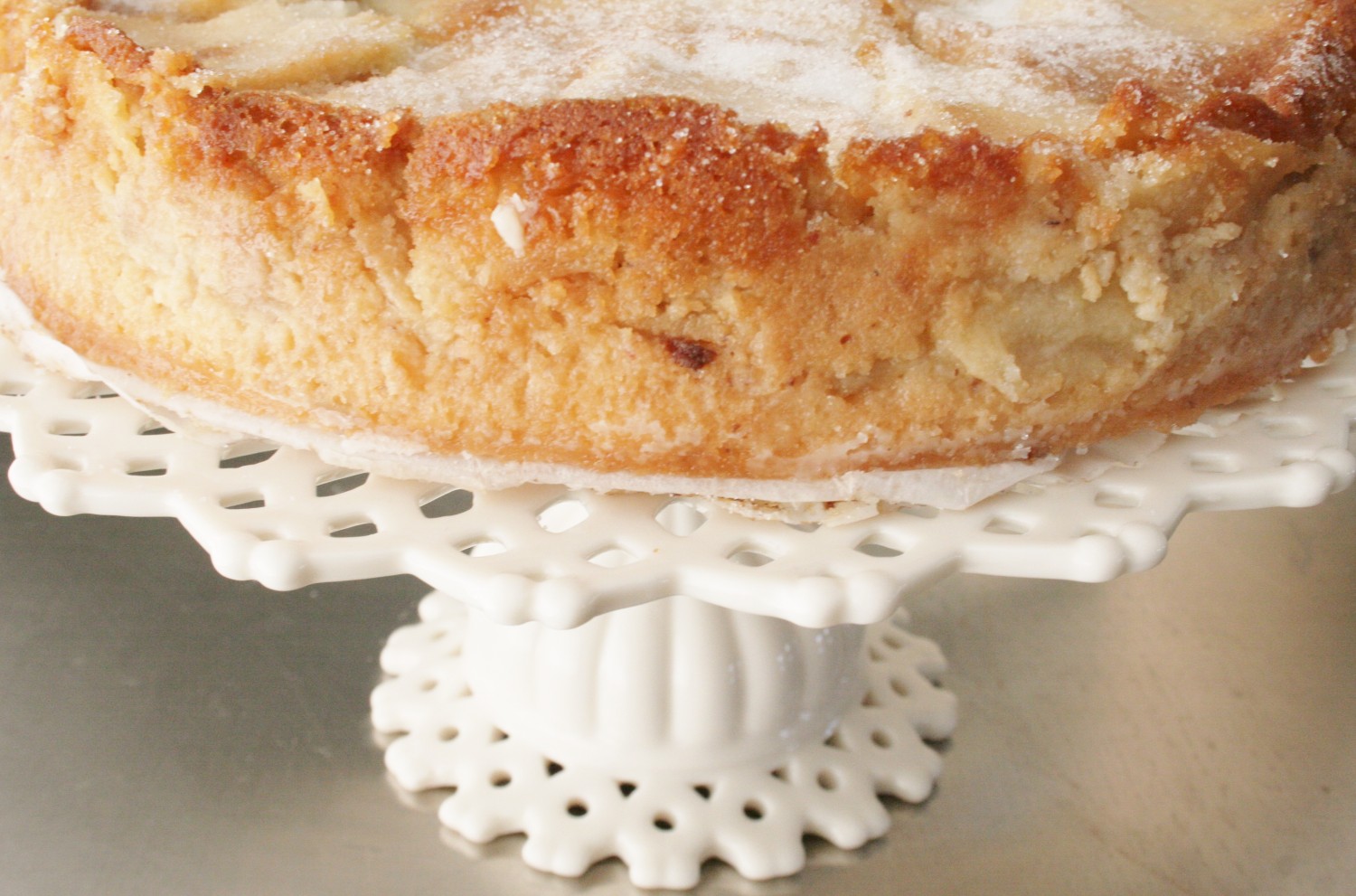 We have probably made this gluten free apple cake about 9 times since it was originally posted in September so it's about time we share it with you! We have tried it a few different ways, Granny Smith Apples are bar none the best apples for this cake. We tried different oils as well and coconut oil was actually our favorite as it lends a subtle but beautiful coconut essence if you will, to the cake (when using coconut oil we recommend granny smiths, the extra tartness works smashingly with the coconut flavour)
To make things even easier, use your favorite gluten free baking mix. We used our current favorite, Pamela's Pancake and Baking Mix.
Gluten-Free French Apple Cake
serves 8
4 cups Granny Smith apples, peeled, and sliced as thinly as you can
1 tablespoon maple syrup
1 teaspoon lemon juice
3/4 cup, plus 2 tablespoons gluten free all purpose baking flour mix
1/4 cup almond flour
1 cup, plus 4 tablespoons organic granulated sugar
2 teaspoons baking powder
1/4 teaspoon salt
1/2 teaspoon xanthan gum, omit if your flour mix has it (Pamela's does)
1 large egg plus 2 large yolks
3/4 cup coconut oil** (canola works well too)
1 cup almond milk
1 teaspoon pure vanilla extract
Instructions
Place oven rack in the lower third of the oven, preheat to 325 degs. Line a 9 inch springform pan with parchment paper or spray with non-stick spray, be sure to put the spring form pan on a baking sheet as the pan will leak a little oil.
Microwave the apples for 3 minutes in a medium size bowl. Stir in maple syrup and lemon, put aside.
Put 3/4 cup of gluten-free flour blend, almond flour, 1 cup of sugar, baking powder, salt and xanthan gum (if using) in a large mixing bowl. Whisk to combine. Add one egg, oil, milk and vanilla extract and whisk until smooth. Scoop out one cup of the batter and place in another medium bowl.
Add the egg yolks to the larger portion of the batter and whisk to combine. Stir in the apple slices and pour mixture evenly into the prepared pan.
Whisk remaining 2 tablespoons of gluten-free flour blend into the remaining batter and smooth batter evenly over the apple mixture in the pan, spreading it all the way to the edges.
Sprinkle the top with 2 tbsp of sugar and bake until the center of the cake is set, about 1 hour and 15 minutes, you may need to bake it for an additional 10 minutes or so.
Run a knife around the edge of the cake and let cool. Sprinkle with remaining 2 tbsp of sugar, voila, a beautiful fancy french cake! GLUTEN FREE!!!
** When using coconut oil, if it is in solid form, you will need to melt if first. I usually simmer it for a few minutes in a small pan on the stove until half is melted and then remove from heat and stir to melt the remainder and preserve the oils nutrition.