7 Apr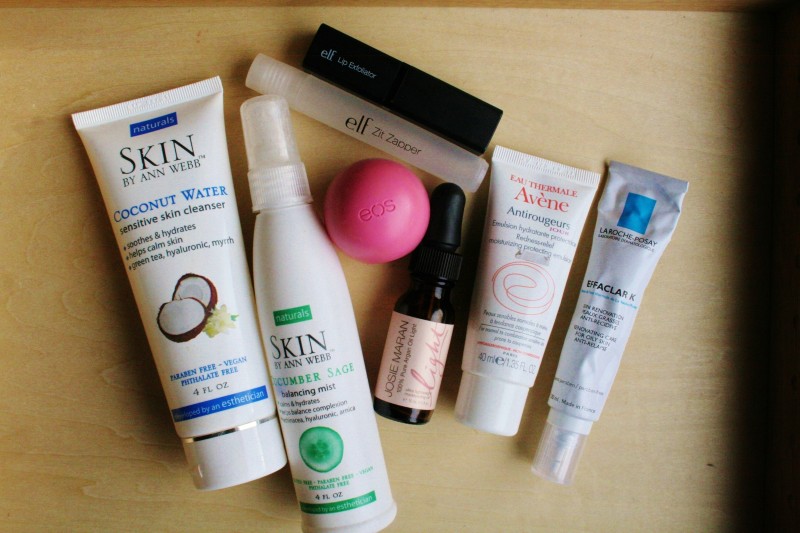 2013 was a bit of a complete revamp of what I was using to care for my skin. My skin completely changed early last year into combination skin and what I was using, no longer worked, I had redness and lots of breakouts that showed no sign of healing up! Things have stabilized now (thank goodness!) and my skin completely cleared up! After months of trying different products, and trying to find products that were gluten free and as natural as possible, here are the clear winners that helped work it all out..
Skin By Ann Webb Coconut Water Sensitive Skin Cleanser// I now love nighttime cleansing thanks to this silky coconut concoction! It is so good for my easily reddened complexion. It gently cleanses with coconut water, green tea, and hyaluronic acid. I picked it up on a whim while on a trip in the States at Whole Foods and it was a score. If I'm wearing a lot of makeup, I will use an oil to cleanse, and then use this cleanser.
Skin By Ann Webb Cucumber Sage// I've been doing some reading on how important toning actually is to balance the PH of your skin. (Acne-prone readers: heads up!) I am not a chemist, but did you know that the skin on our face is actually slightly acidic in its healthiest most protected state? I think this toner is doing a pretty good job, my acne has cleared up since using it and it is balancing my PH quite well.
ELF Zit Zapper & La Roche Posay Effaclar K// These are the other two products I have used pretty faithfully on spots or the beginning of spots. Effaclar has quite a strong fragrance which I'm not keen on, I don't think fragrance has a place in facial products, but other than that, it mildly helps your skin cells turn over and keeps pores clear, I used it every other night at first. Now just occasionally. The Elf Zit Zapper has salicylic acid and tea tree oil and is really really good at reducing swelling gently without drying your skin out too much.
Josie Maran// 100%Pure Argan Oil Light// This is probably my favorite skincare find this year! I always knew fight oil with oil, but I found some oils like jojoba just too heavy for the acnegenic areas of my face. This argan oil helped lighten and heal my acne and scars and it's great under makeup, sunscreen and/or primer. I've tried samples of Josie Maran's regular argan oil, cheek gelee, creams and I'm smitten! All of her products are labelled gluten free. Need to go to Sephora soon, I'm looking at you Cheek Gelee. (see note below)
Eau Thermale Avene Antirougeurs Emulsion// YAY! A redness relief lotion for combination skin. You can layer on top of an oil for extra comfort. I have used this a lot during winter months and it has Physical SPF 20 in it as well.
Elf Lip Exfoliator & EOS Lip Balm// I use these two products every other night and finally I'm having a year of non-flakey, smooth lips- when I put the time in to do it at night that is! Red lips here I come!
Note: I know a lot of people really struggle with acne and it can be so annoying. There are so many products out there designed to take advantage of your agony and don't necessarily even help, in fact a lot of products I tried when I was younger would make it worse! The number one thing I did that helped my acne go away was start using an oil as a moisturizer. It may sound crazy but it worked. Applying an oil to your face after cleansing protects your skin's barrier and tells your body it doesn't need to produce more. I actually recently have been using a cold pressed organic Avocado oil, and it works just as well, and is far more economical, than the Josie Maran Oil. Research what oils may work for your skin type and give them a try!
(Disclaimer: Hey guys!  Just want to let you know that a lot of my picks here are labelled gluten free, a few are not, these companies have informed me aside from the ol~ cross contamination possibility, they do not contain gluten ingredients. However like always, please do your homework and verify each time your purchase something, that it is in fact, Gluten Free, as formulations change frequently.)
For 2013 Makeup Favorites, click here.