19 Nov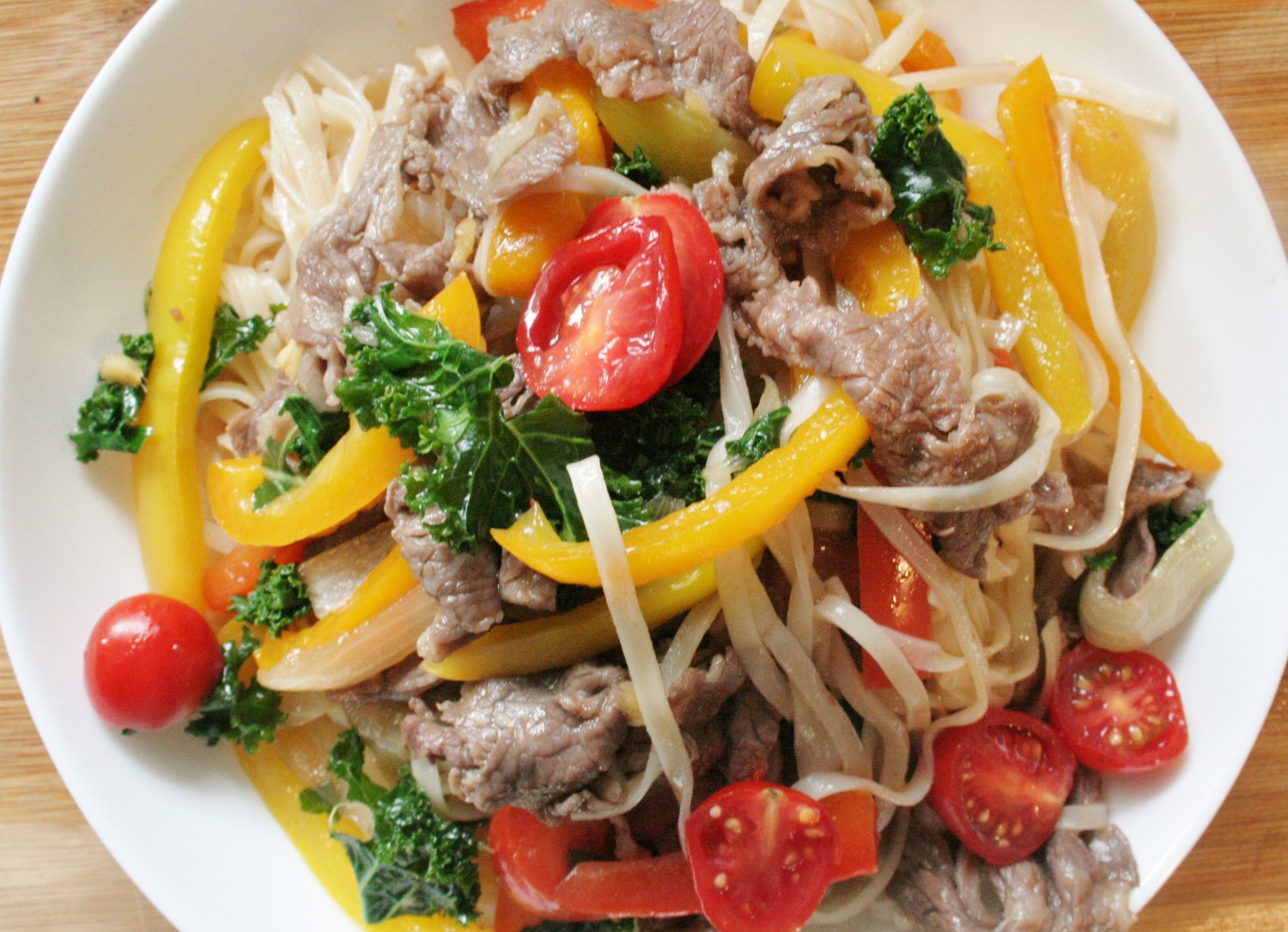 Is Korean Food gluten free?
I can still remember what really good Korean food tastes like. Bibimbap, Kimchi fried rice, Bulgogi, delicious! A lot of Korean dishes have that smoky sweet spiciness largely in part to Gochujang paste. So of course I was quite disheartened when I went with my Korean girlfriend to a proper Korean market and discovered that every single bottle of  Gochujang contains gluten in some form. It is not a paste that you can just whip up sans gluten either, I've been looking into it and it's..well.. a project of sorts! ( You will also want to be careful with Kimchi as not all of it is gluten free either, homemade Kimchi likely is though:))
In the meantime Korean inspired dishes will suffice. One thing that makes a dish Korean inspired to me is buying extremely thinly cut beef. I get my rib eye/sirloin beef at a local Korean store if I can't get that cut in my regular grocery store. It is great to cook with since it cooks in minutes, if not seconds, and soaks up whatever seasoning you use since it is so thin, and tender! oohhh this beef melts in your mouth!
So for all those mourning your Korean memories, this recipes for you! It's definitely got an asian flair with the vietnamese rice noodles, Sriracha, and ginger. I made this dish two days in a row and posting this has made me crave it again! Enjoy!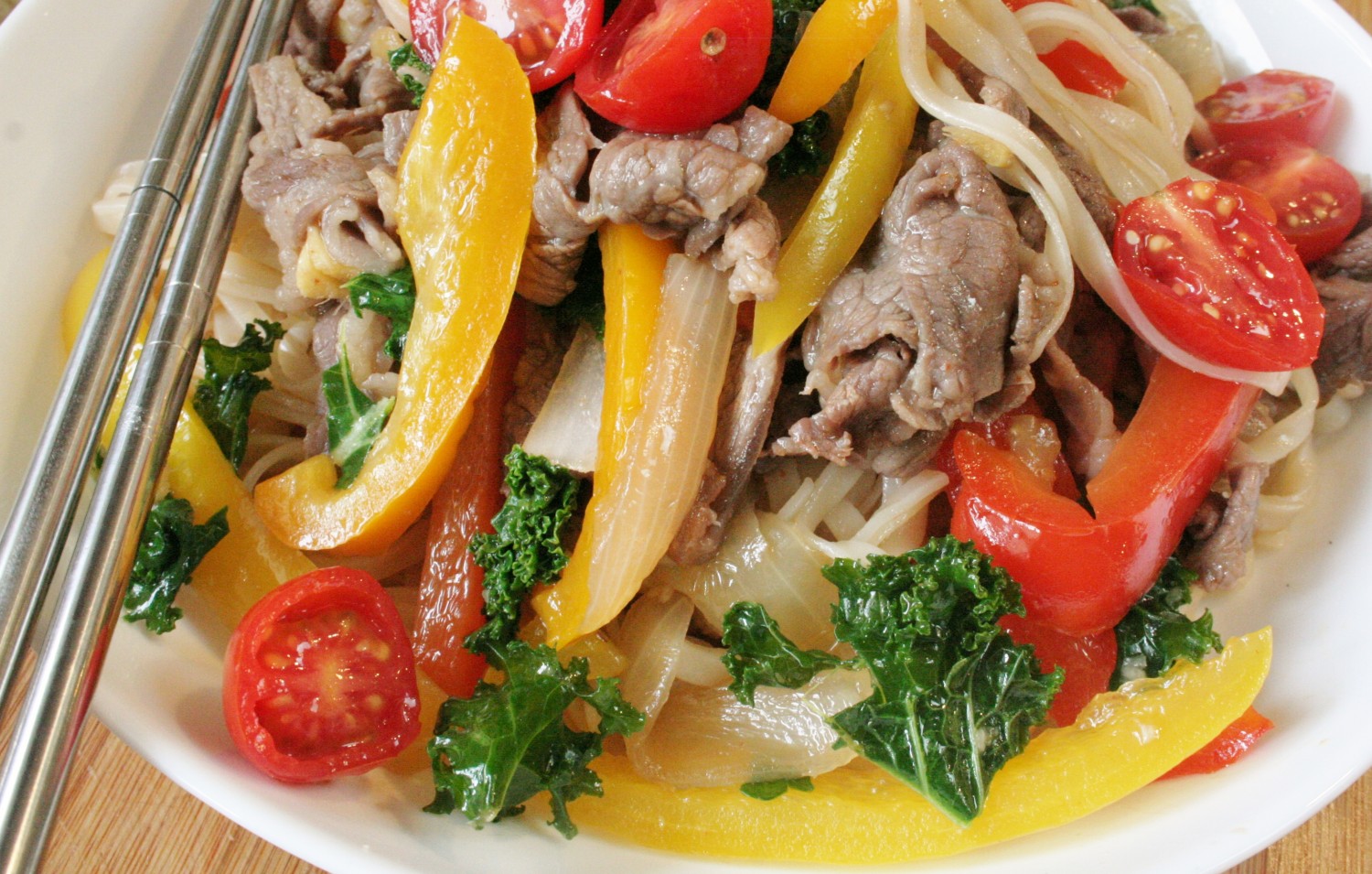 Korean Inspired Gluten Free Noodles
1 Stick/Pkg Rice Noodles
2-3 Bell Peppers
1 Onion
10 Cherry Tomatoes
½ Head of Kale or Spinich
4-5 cloves garlic
1 inch chunk of ginger
1 Pkg Thin cut beef
⅓ C Braggs Soy Seasoning or GF Soy Sauce
1 tbsp Sriracha
2 tbsp brown sugar
Coconut Oil
Bring a large pot of salted water to a boil and cook rice noodles for half the indicated time on the package. Drain the noodles and rinse with cold water to stop them cooking. Add a few lugs of coconut oil or olive oil to noodles and spread throughout. Cut your peppers and onion into strips. Tear kale into small pieces. Heat up 2 tbsp of coconut oil in a large wok or pan. Add onion and saute until softens. In a small bowl add soy sauce, sriracha and brown sugar, stir. Mince garlic and ginger and add to soy sauce mixture. Add peppers to onions and heat them up but don't cook for more than a couple minutes. Next remove veggies and add the beef to the pan at high heat, add ½ the sauce to the meat and cook meat until no longer pink, add veggies back in. Add the noodles, kale and remainder of sauce, use chopsticks or two spoons to work the sauce into the noodles. Remove from heat and add tomatoes. Add more soy sauce if needed.